Danny's Pressure Washing
A pressure washing company based in Slidell LA that can provide a like-new restoration to the outside of your home, driveway, deck, brick, or siding. If you're in need of a residential or commercial pressure washing service on the Northshore then give us a call or send a text message! (504) 657-6393
Slidell's One-Stop Pressure Washing Service
We can pressure and soft wash residential and commercial buildings, sidewalks, and driveways.
No pressure washing job is too big or too small. Call or text anytime for a free quote (504) 657-6393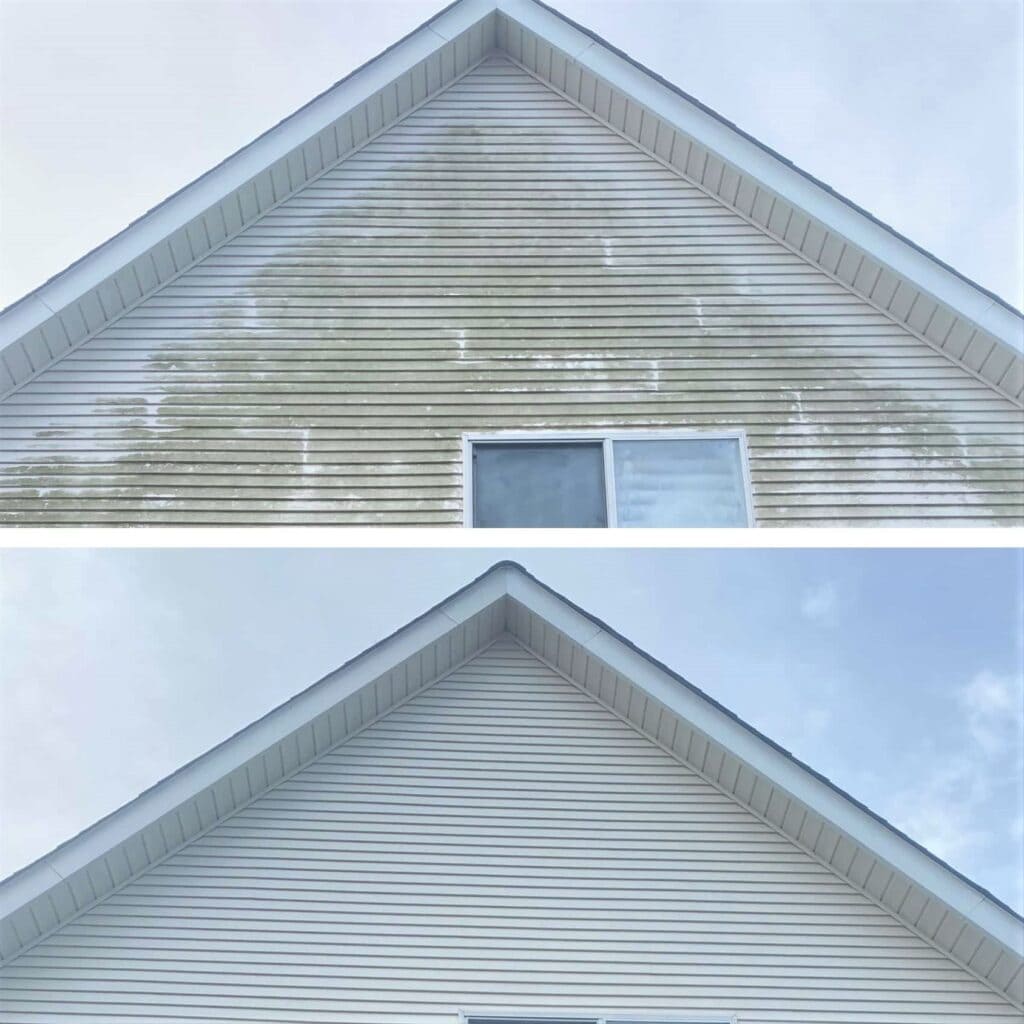 House Soft Washing
House and building washing in Louisiana isn't just a matter of maintaining your home and increasing its curb appeal. The humid, damp climate of Louisiana can turn your home's exterior into a breeding ground for mold, fungi, algae, and more. If these organisms are left alone, they can damage your paint and siding, leaving permanent stains and unsightly patches.
That's why we're proud to offer the best house-washing services in all of Louisiana. Whether your home's exterior is built from vinyl, aluminum siding, stucco, brick, or any other material, we've got the expertise to clean away dirt, grime, and other debris – and leave your home looking brand-new!
Using safe, low-pressure equipment and advanced detergents, our professional power washing technicians will blast away dirt and grime. Contact us now to learn more about what we can do for your home!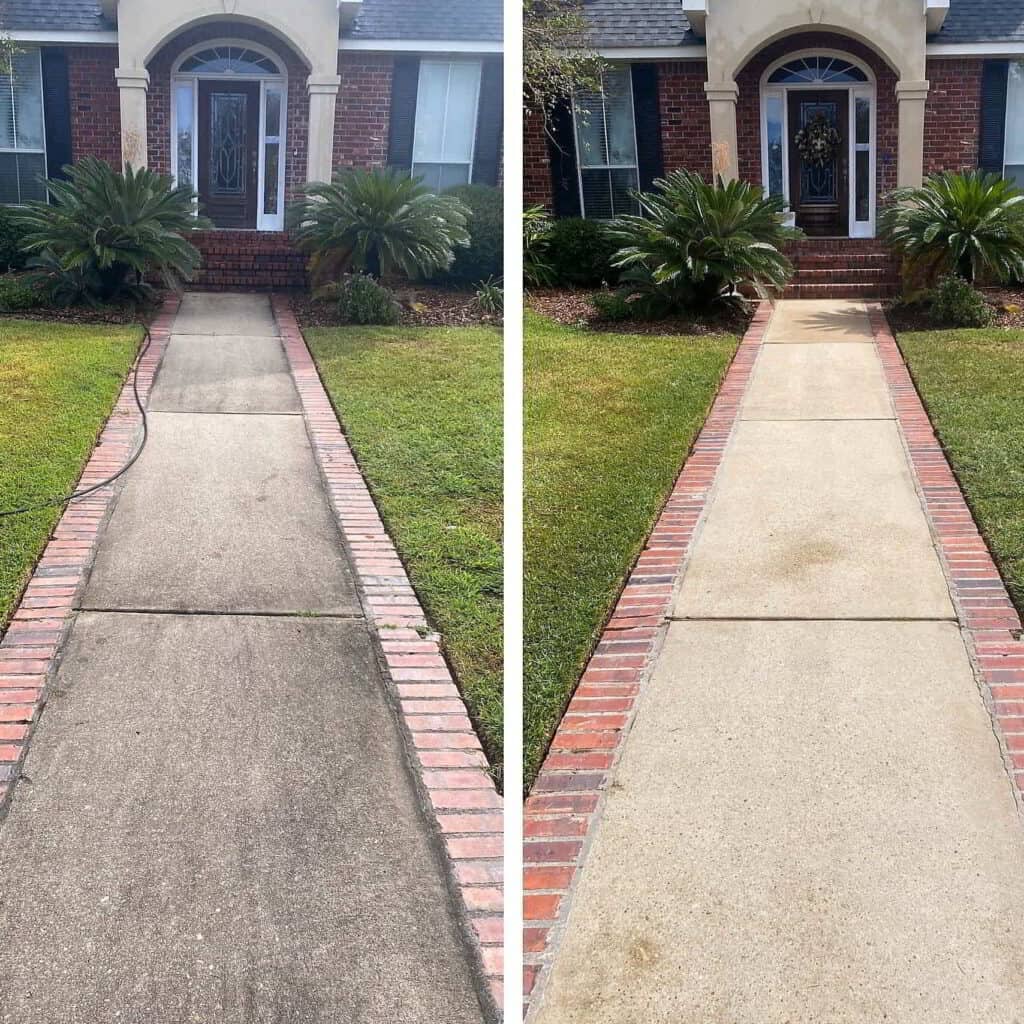 Surface Cleaning
If it needs to be pressure washed, we can pressure wash it! We specialize in safe and effective surface cleaning of patios, decks, fences, porches, walkways, driveways, commercial loading docks, and many more surfaces!
Whether you have a pool deck that needs to be refreshed, a concrete driveway that has seen better days, or a walkway to your business that needs to be cleaned, we can do it all. 
With advanced training, equipment, and the latest detergents, we're the best choice for surface cleaning in Louisiana!
From low-pressure house washing to high-pressure concrete cleaning, we can do it all in Slidell, LA! Get in touch to learn more about our services and rates.
This is the most common item that we pressure wash. You'd be surprised how much the color of your driveway has faded. Let us bring it back to looking new! We use a commercial surface cleaner to lift and dispel dirt, grime, and microorganisms.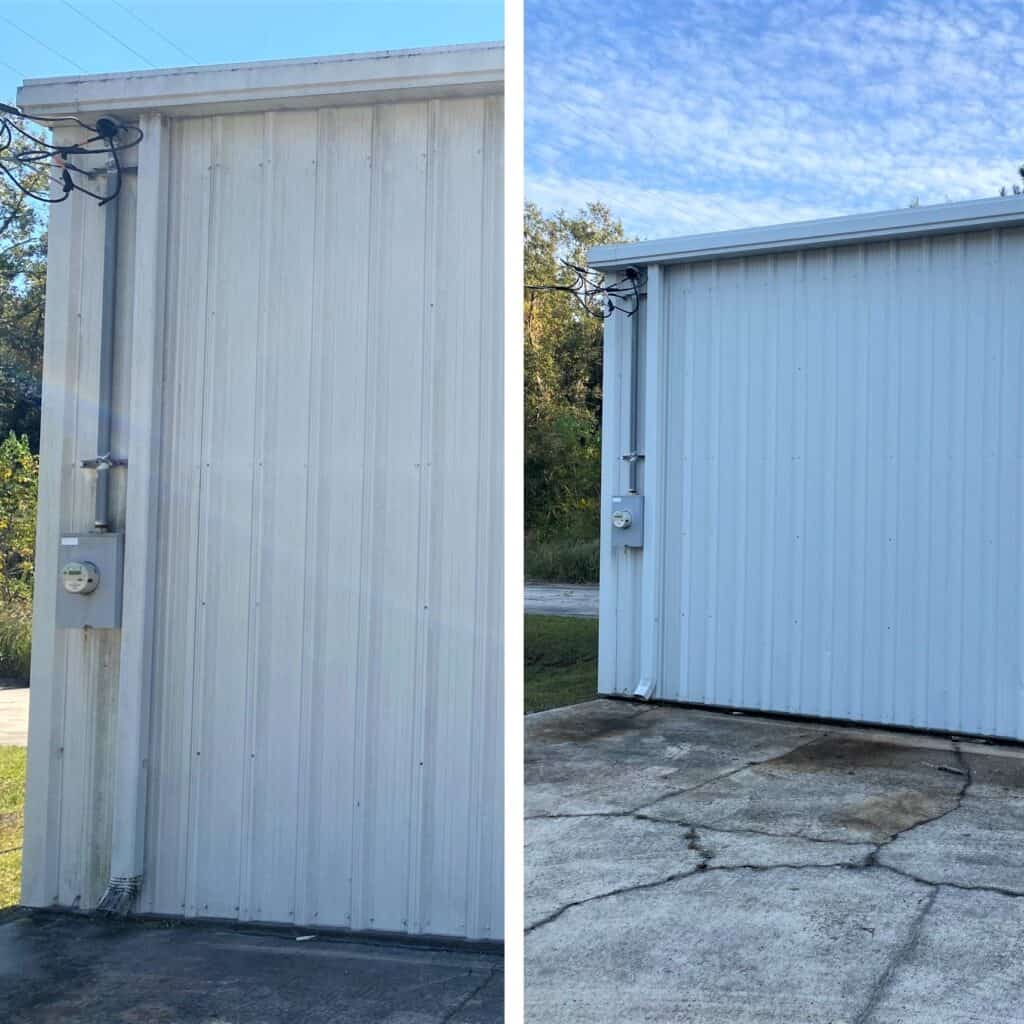 Commercial Building

Cleaning
Extending the life of your paint
Eliminating bug nests
Eradicating any mold
Increasing your curb appeal
Not only do bird droppings, mold growth, algae and dirt buildup look unattractive, but they can actually wear away at a building, causing rot or further damage. Certain building materials, such as brick, may deteriorate over time if it's left unwashed. Regular pressure washing of the walls, roof, and gutters can help cut down these risks and end up saving a homeowner or business money in maintenance costs in the long run. 
We can make your house or business look more inviting to all. Call or Text anytime!
Get A Free Pressure Washing Consultation & Estimate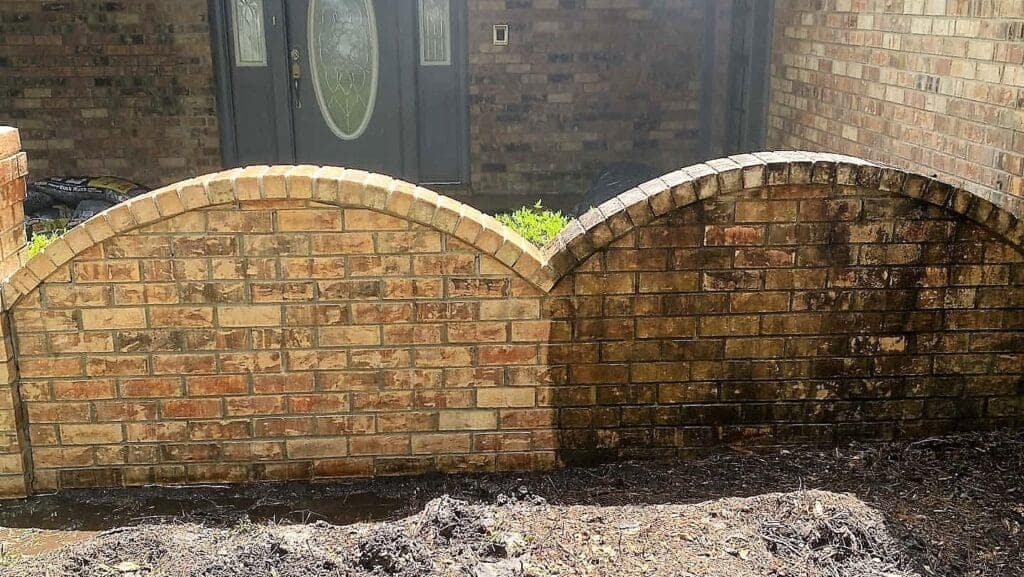 Wall and Fence Cleaning
The first impression a resident or visitor gets of a home or community is typically structures such as brick walls and entrance signs. As such, it is imperative to maintain the cleanliness of these structures. Whether it is brick, stone, block, vinyl, stucco, or some other painted surface, we can clean it! Many times, people think painted walls need to be repainted when it is a fraction of the cost to simply clean them. When first impressions matter, give us a call and we will restore the look of your dirty fences and walls! 
Total Home Power Washing – Slidell and surrounding areas
Your entire home matters when it comes to your personal pride. However, there is also potential resale value that you are leaving on the table if you don't get a full range of services. Don't just leave it at the clean driveway. We can give you a total clean, starting from the top all the way to the foundation. This way, your entire property is looking shining new again!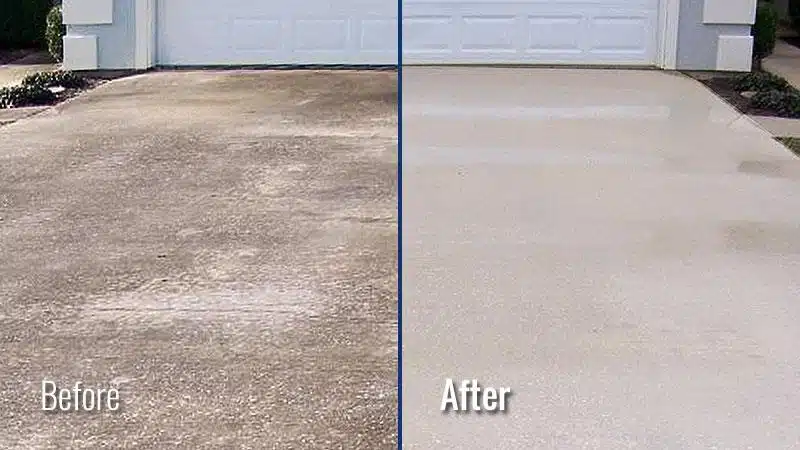 Pressure Washing Experts
If you are looking for pressure washing services in Slidell and surrounding areas, then you should know what is out there. It can be a great investment, and many homes or business owners don't know what kind of services are available. As you read the list below, you might be pleasantly surprised by what you read. There are various areas of your property that can be cleaned up, saving you time, money, and property value:
Roof Cleaning & Pressure Washing – Slidell and surrounding areas
There are some areas of your home that you don't see all the time, but that doesn't mean they're not important. You need a power washing company to clean your roof. There is bacteria and other debris that can cause problems. We have a special way of cleaning your roof to avoid damaging it while protecting it going forward.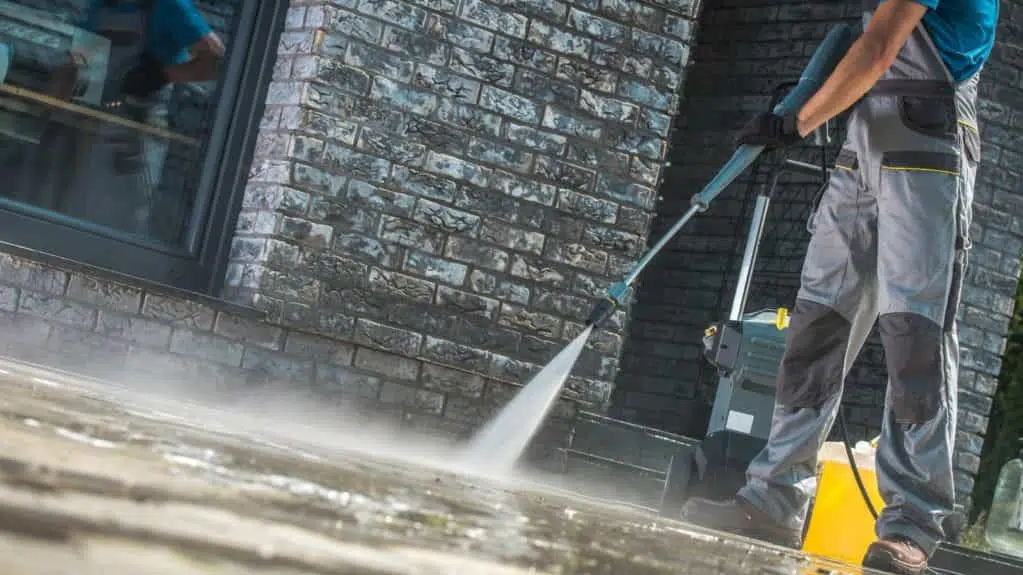 Commercial Pressure Washing
Commercial Power Washing Services
We don't just do homes. We can clean condos, government buildings, businesses, schools, and more. We are a well-rounded and versatile Slidell pressure washing company that you can have on call for a variety of needs you have. Pressure washing can improve curb appeal and send the right message about your business.
Concrete Pressure Washing Slidell and surrounding areas
Oil, grime, moss, and more can grow on concrete. It's a good idea to hire a pressure-washing company for your stone or brick. These materials gather a lot of dirt and grime over the years. It can build up, causing damage to your property faster than you think. It's typically not a good idea to do it yourself. Especially with softer stones, because there is a difference between concrete and softer stones. Feel free to reach out for your free estimate!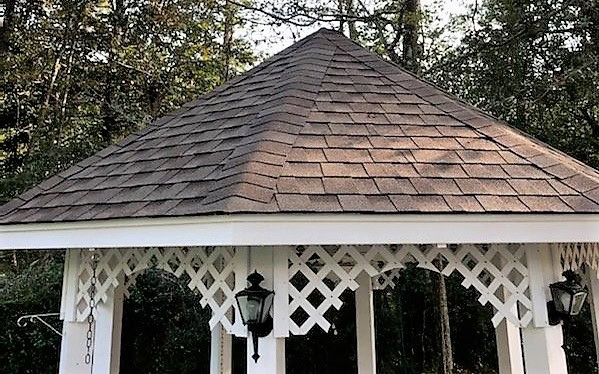 Roof Cleaning
Your roof has taken a lot of abuse over the years in Louisiana's harsh climate. This can result in the buildup of debris like leaves and sticks, as well as algae, dirt, and even mold. This buildup can result in damage to your roof tiles or shingles, solar panels, and even require you to replace entire sections of your roof, which can cost thousands of dollars.
If you're interested in preserving your roof or solar panels and fighting back against the buildup of algae and mold, call us for a quote!
Using a specialized low-pressure washing system, we can apply advanced detergents and algaecide to your roof and gutters.
Whether you've got asphalt shingles, a tile roof, or even a metal roof, we're happy to keep your roof clean – and keep you safe and dry!
REVIEWS FROM PRESSURE WASHING CUSTOMERS

"Danny's pressure washing service was very professional and did an awesome job making our driveaway and sidewalk look new again. They got out all the old stains from decades of use."
– Bill Strahan.


"I wouldn't get anyone else to soft wash our house other than Danny's. They were careful and meticulous. Best pressure washing company in Slidell by far!"
– Rebecca Johnson.

"We use Danny's Pressure Washing for our commercial jobs and they always do an excellent pressure wash job and leave the place looking great. We are glad to have found a professional company in Slidell that can work with us."
– John Walker.
Why Choose Danny's Pressure Washing
Satisfaction Guaranteed
We stand by our satisfaction guarantee and promise to do the job until you are 100% satisfied. Learn more About Us.
A One-Stop Pressure Washing Service
We can pressure wash anything you want given it can get wet and it is safe!
Free Consultation
Call us for a free and fast pressure washing quote. We service many local areas.
Frequently Asked Questions About Pressure Washing
What is pressure washing?
Pressure washing or power washing, is the application of a high pressure water spray to surfaces, sometimes with added solutions, that need to be cleaned.
It is used on concrete to remove mold, gum, and dirt stains.
It is used on wooden decks to return the wood's vibrant color.
It is used on houses to remove pollution, mildew, and other problematic signs of aging.
How often do most surfaces need to be pressure washed?
For the majority of surfaces, an annual pressure washing should suffice. It does depend on the materials used to create/build the surface as well as the current condition of the surface, so you may need to increase the frequency of ppressure washings.
Can I do the pressure washing on my own?
While power washing can be viewed as a do-it-yourself project, there is a clear distinction between a DIY crew and professional services. This means you get greater capability of equipment and greater expertise by having trained power washing technicians do it for you.
A do-it-yourself washer may set the pressure too high for the surface or hold the nozzle too close to it. This can result in chipped painting, damaged screens, and ruined siding. And though most power washing equipment you can rent has the same PSI as commercial-grade tools, it holds a minimal amount of water—making this project take days, not hours.
What are PSI and GPM?
PSI is the pounds per square inch. This is what delivers the punch during a power wash, forcing contaminants off the surface.
GPM is the gallons per minute. This flushes the contaminants pushed off by the PSI.
Both are very important. Some people do, however, prefer more PSI or more GPM depending on their needs. A farmer may want more GPM to flush contaminants away from the fresh soil; a business owner may want more PSI to get the grime off the exterior surface of his or her storefront.
Will a high pressure wash damage my home?
Not with our professional pressure washing solutions. We know how to properly utilize high pressure washing equipment that has the capability to produce an extremely high pressure output while not damaging any surfaces. By examining the type of surface and its condition, our team can set the right amount of water pressure to be used.